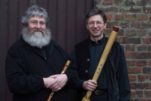 Les Goûts-Authentiques want to present different music styles from the Baroque and early Classical period to the public. The musicians play on copies of historic instruments and aim to revive the ancient flavours as authentically as possible. Besides trying to be historically correct (if that's even possible?), they of course want to play the music in a lively and colourful manner. The line-up of the ensemble depends on the repertoire, see also: Les Cordes-Réunies and Les Clavecins-Réunis.
Jan Devlieger studied at the Conservatory of his hometown Ghent and was awarded first prizes in harmony, counterpoint and fugue (W. Carron) and first prize in chamber music (M. Ketels). At the Ghent High School of music he got Master's Degree in recorder (P. Peire) and Harpsichord (C. Verhenneman). As a musician – harpsichord player, organist, recorder player and singer – he has worked together with many ensembles, such as Currende Consort, Ex Tempore, Le Mercure Galant, I Brugensi, Het Kamerorkest, Het Symfonieorkest van Vlaanderen, Amanti dell' Arte, Ardalus, De Filharmonie, Spectra, Aquarius Soloists.
Marcel Ketels studied early music theory, chamber music, recorder and transverse flute with Barthold Kuijken, Oswald Van Olmen and Johan Huys at the conservatories of Ghent and Brussels. With Les Enemis Confus and Pandora, he won the international competition for ensembles Musica Antiqua in Bruges. Marcel Ketels has made a considerable number of recordings for radio and television and recorded several CDs. He is an honorary professor of recorder music, theory and practice of early music, chamber music and recorder teaching methodology at the Conservatory of Ghent. He was also the director of the Academy of Music.