5th International Clarinet Competition Ghent!
The original idea for this fifth clarinet competition was that it would be part of the "Van Eyck project 2020 – 2021". Everyone knows why this has been delayed by a year. For this competition, three composers were asked to write a new work inspired by the characteristic painting by Jan Van Eyck, "Adoration of the Mystic Lamb". The composers Alain Crepin (Lam Gods Impressions), Johan Duijck (L'Homme désarmé) and Dirk Brossé (The Secret of the Mystic Lamb) have succeeded in this in a very special way. The International Clarinet Competition Ghent has now been organized for the fifth time. It has now grown into a special and highly appreciated competition that, due to its great and quickly built up success, has attracted registrations from more than 200 candidates from 5 continents. Of these, 65 clarinetists were selected to participate. On this album you can listen to the three finalists and enjoy their exceptional playing. Accompanied by the Flanders Symphony Orchestra, the Zemlinsky Quartet, Johan Duijck (piano) and soprano Franches Dhont, they will take you into the atmosphere of the competition!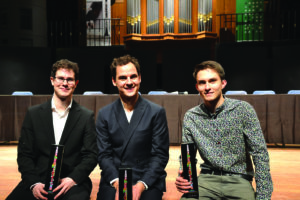 The first three price winners Arthur Stockel (1st prize), Ángel Martín (2nd prize) and Szymon Emil Parulski (3rd prize) gave the best they have. Accompanied by the Flanders Symphony Orchestra conducted by Dirk Brossé you can listen to the finals on this disc in stereo and Auro 3D Immersive Sound.
CD 1
Arthur Stockel
1. The Secret of the Mystic Lamb – Dirk Brossé 13:34
Arthur Stockel
Concerto no. 2 – Carl Maria von Weber
2. Allegro 08:23
3. Adagio ma non troppo 07:08
4. Rondo allegretto 06:19
Szymon Emil Parulski
Concerto no. 1 – Carl Maria von Weber
5. Allegro moderato 07:59
6. Adagio ma non troppo 06:01
7. Rondo allegretto 06:03
CD 2
Angel Martin Mora
1. L'Homme Désarmé – Johan Duijck 10:57
Angel Martin Mora
Clarinet quintet K581 in A major – Wolfgang Amadeus Mozart
2. Allegro 06:28
3. Larghetto 05:48
4. Menuetto – Trio I – Trio II 05:33
5. Allegretto con variazioni 08:40
Minkyung Chu
Clarinet Quintet in b-minor op. 115 – Johannes Brahms
6. Allegro 09:52
7. Adagio 10:50
8. Andantino 04:36
9. Con Moto 08:41
Gervasio Valli Tarragona
10. Lam Gods Impressions – Alain Crepin 07:57