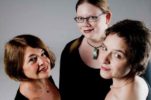 TRIGON ensemble is specialised in studying and performing medieval spiritual music. How medieval music sounded at the time no one can really know. What we can do is study the contemporary treatises that were written on the subject. And we can get as close as possible to the music by studying the original sources. That is why TRIGON studies and sings from these original scores, as found in manuscripts.
Trigon is the name of a movement symbol in Gregorian chant, also known as a neum. It describes a lightly sung movement which first goes a little up and then a little down. Early music is strongly characterized by movement; aside from the music's modality, this same movement gives the music its vitality. In its interpretation, TRIGON aims to revive and render this movement by producing a purity of tone that resonates both in body and soul.
Artistic director Margot Kalse founded TRIGON after she obtained her master's in Early Vocal Music in 1998, having studied with Rebecca Stewart at the Fontys conservatory in Tilburg. At this institute she taught vocal technique for Early Music for seven years. Before that, she studied Solo Singing at the Royal Conservatory in The Hague and Early Dutch literature at the University of Leyden.
Marsja Mudde studied Early Vocal Music in Tilburg and since then has been coached by Margot Kalse. Medieval spiritual song and chant were her specialisation and graduation topics. She specialised further by following several workshops and courses given by Rebecca Stewart, Giacomo Baroffio, Maria Jonas and Anne Azema.
Cora Schmeiser obtained her master's in Solo Singing at the Royal Conservatory The Hague. She participated in several historical projects of Early Music during that time. In Fulda, Germany, she followed a three-year course in medieval music by Marc Lewon and Uri Smilansky. Since its foundation in 1994 she has been a permanent member of Ars Choralis Coeln in Germany.