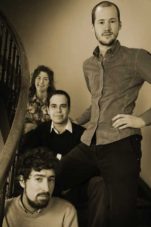 Sven Van De Voorde – TetraGonist
Clarinettist Sven Van De Voorde (°1988) started his musical career in Waregem at the 'Stedelijke Academie voor Muziek' with Annick Engelaere. He commenced higher education at the Ghent Conservatory with Eddy Vanoosthuyse. He is currently pursuing a Master's degree at Hilsinki's Sibelius Academy with Olli Leppänniemi, Harri Mäki and Kari Kriiku. Apart from being a clarinettist, Sven is also an accomplished accordionist. He studied accordion in Waregem with Frederik Caelen, and afterwards in the Ghent Conservatory with Philippe Thuriot and Tuur Florizoone. Sven won 2nd prize in the 'Citta di Carlino International Clarinet Competition' in 2011 and was finalist to the 'International Mercadante Competition' and the 'Internation Clarinet Competition' in Capri. He was selected from over 200 candidates to participate in the 'International Nielsen Competition 2013' and in the 'International Debussy Competition 2014' in Paris. Nationally, he was awarded the first prize in Belfius Classics, not only for clarinet, but for accordion and chamber music as well.
Tetragonist is a young ensemble whose members are pianist Mathias Coppens, violinist Jens Lynen, cellist Lieselot Watté and clarinettist Sven Van De Voorde. The Tetragonist functions as a new, observing character next to the classical protagonist, antagonist and tritagonist. These roles are alternatingly interpreted by Mathias, Lieselot, Jens and Sven. In their opinion, all the aspects present in this quadruple relationship are the deepest source for all musical forms aiming to tell a story. They thus distinguish themselves from the average quartet by positioning hardly unknown repertoire alongside the standardised canon and by often engaging in a cooperation with another
artistic organ which alternates with the quartet.