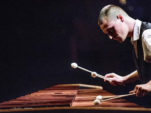 Interiorem by Tobias Messerschmidt
Tobias Messerschmidt, is a professional Percussionist with the main focus on Marimba. He started his musical life with playing drums in the age of 10. At the age of 17 he was studying with Günther Peppel a well known Percussion Player. After Finishing studying with Günther Peppel, Tobias Messerschmidt moved to study Classical Percussion in Wiesbaden. Tobias Messerschmidt started to create in this time of studying his own marimba sound and playing style. Marimba Concertos in Europe, Switzerland, Belgium, Germany etc. brought Tobias Messerschmidt to ALEX JACOBOWITZ, one of the best Marimba players of our time, where he get influences to Barrock and Jiddisch music. In 2016 Tobias Messerschmidt played in Wiesbaden at the "deutsche Medienpreisverleihung".
With this CD, all pieces of the last 2 years of playing solo concerts are recorded presenting a collection of the different sounds/colors/genre that you can play with Marimba. Every Piece of the this CD is dedicated to a person that is part of my life.
Find out more..