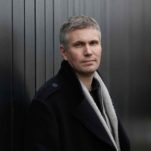 Jeppe Moulijn studied composition in an environment where there was little or no understanding for his impassioned embracing of late romanticism and the early 20th century. But Moulijn has not been standing still and now has left all naiveté behind. He is a composer of today.
Moulijn's work can be described as expressive, rich in instrumental colours and details. It is accessible, without consciously aiming for it.
"Composers should think from the standpoint
of the musician. And musicians should try to 're-create' like a composer"
Moulijn's work is first and foremost formed by his 20 years of experience as an orchestra conductor, and therefore of a musical tradition reaching from Bach to the present day.